You Asked, Ali Answered:
Easy Summer Uniform?
We want to answer your most pressing questions—or, you know, just the things that you're curious about. Please keep them coming to [email protected]. Below, a q for our creative and editorial fashion director, Ali Pew.
Q
Recently, I've been struggling to find outfits that keep me cool and look chic—especially office-ready
ones. What are your go-to summer looks?
A
Truth be told, the way I think about my uniform doesn't change much from season to season. Whether it's a sweltering 90-plus degrees or there's a fresh dusting of snow on the ground, my guiding principles remain the same: Try styling what you own in new, imaginative ways. Stick to your color palette (summer is a tempting time to go off track, but trust me when I say styling will be much, much easier if you don't). And have fun with your accessories—it's a low-stakes way to add texture, color, warmth, and femininity.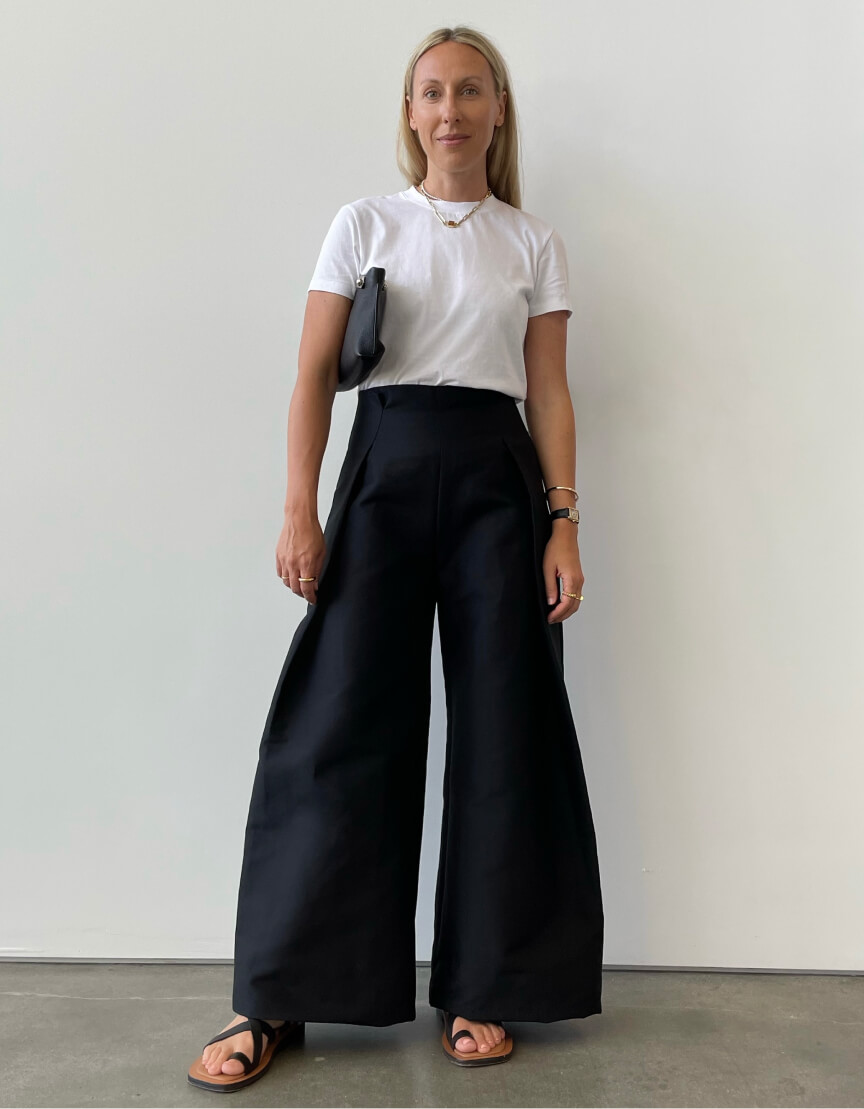 CLASSIC ACT
This is easier said than done, but try to resist buying too many trend pieces. Instead, pick one item to update (I love these St. Agni trousers—the ultrahigh waist and sculptural side pleats are super flattering) and pair it with proven basics, like a plain white tee. Has it been done before? Sure. Is it still undeniably chic? Absolutely. Pile on the gold to take the look from day to night.
G. Label

Deven link necklace

goop, $2,500

SHOP NOW

G. Label

Chidi Lock charm

goop, $1,600

SHOP NOW

G. Label

Parker Pleated T-Shirt

goop, $145

SHOP NOW

G. Label

Dixon Floating-Diamond Bangle

goop, $4,800

SHOP NOW

St. Agni

trousers

goop, $541

SHOP NOW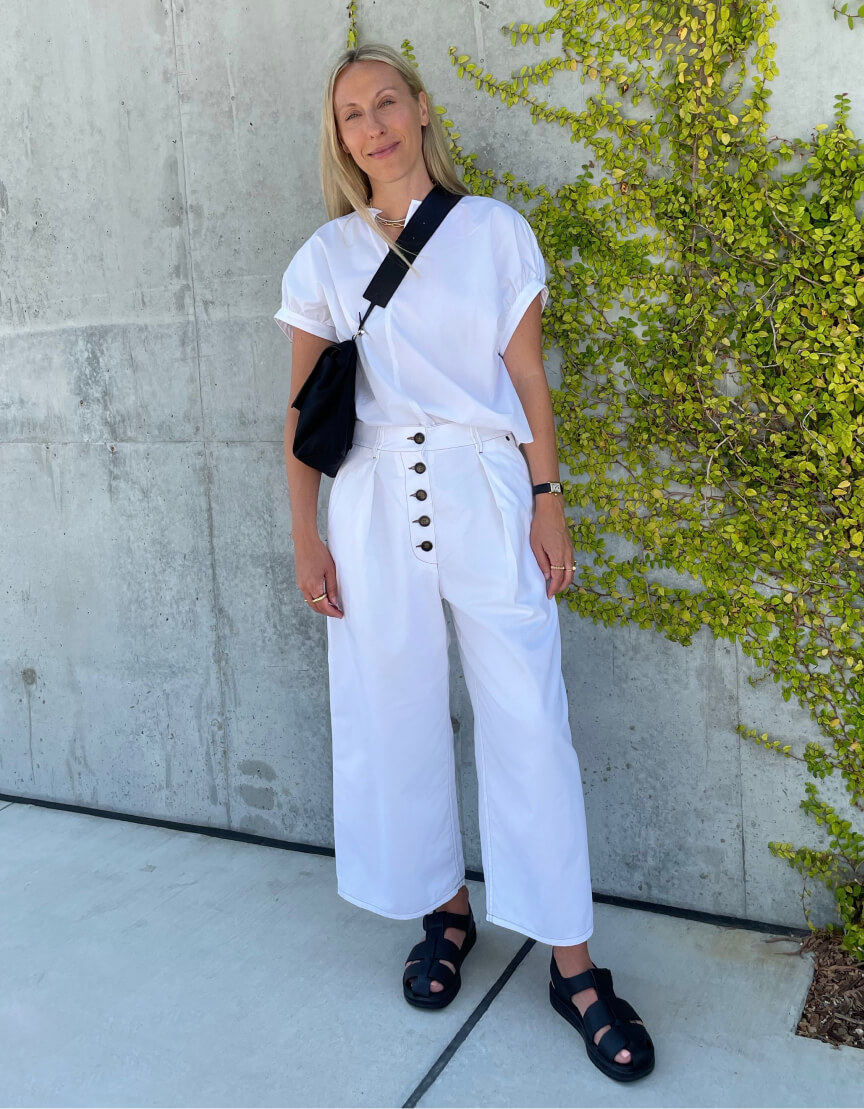 WHITE OUT
Nothing says summer like white on white. When the palette is pared back, I like to experiment with the silhouette—say, a cocoon-sleeve top tucked into cool baggy pants. Keep the minimalist vibe going strong with all-black accessories. This outfit will take me from the office to photo shoots and beyond (it may even make a weekend appearance).
Electric

sunglasses

goop, $250

SHOP NOW

G. Label

Talati puff top

goop, $395

SHOP NOW

G. Label

de la cruz pleated pants

goop, $495

SHOP NOW

Advene

bag

goop, $595

SHOP NOW

Hereu

sandals

goop, $480

SHOP NOW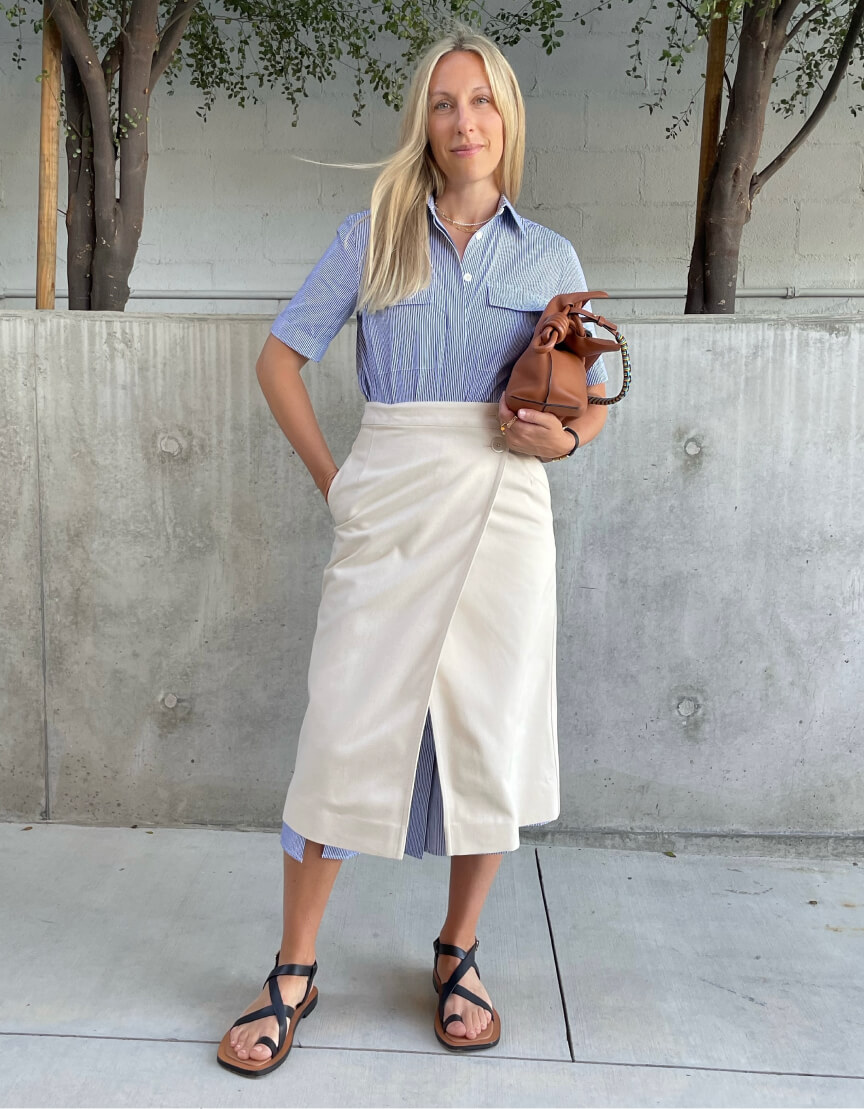 WRAP PARTY
Remember what I said about styling in new ways? Here's how to breathe new life into two pieces you likely already own: Layer a wrap skirt over a long shirtdress, letting the hem peek out. It's directional without doing too much, and I love the contrast of these light-blue menswear stripes against the natural hue of the skirt. Ankle-wrap sandals below keep the proportions balanced.
Maria McManus

Dress

goop, $790

SHOP NOW

Maria McManus

skirt

goop, $590

SHOP NOW

Advene

Tote

goop, $525

SHOP NOW

A Emery

sandals

goop, $150

SHOP NOW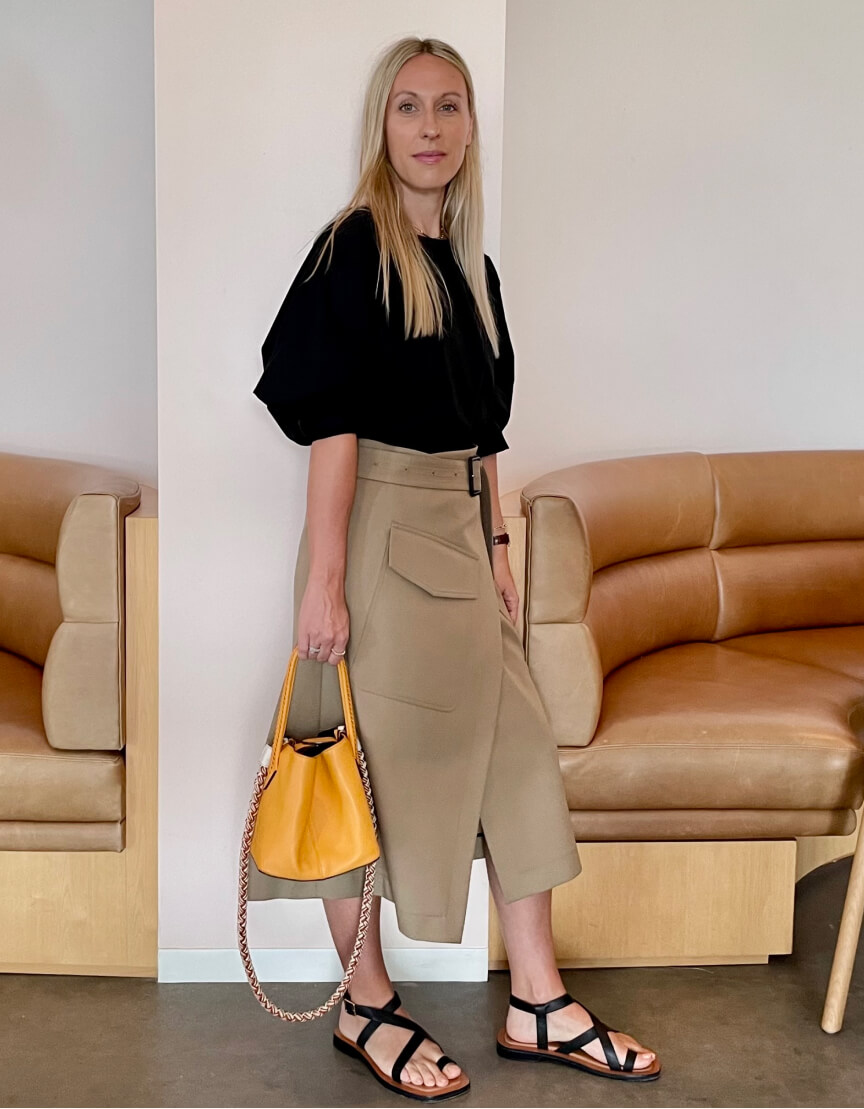 PUFF PIECE
I'm a fan of anything you can wear multiple ways. Case in point: the creamy cotton-twill skirt from above. I paired it with the Fallon top from July Core for contrast, both in color and texture. You might be thinking, Be real—that open back won't fly at the office. But try leaving the bottom bow undone, crisscrossing the panels, and tucking them in tightly: Problem solved. A summery bucket bag pulls the look together.
G. Label

Balenger Diamond Bar Earring

goop, $525

SHOP NOW

G. Label

Fallon Tie-Back Top

goop, $395

SHOP NOW

Maria McManus

skirt

goop, $590

SHOP NOW

G. Label

Avant pavé crescent hoops

goop, $3,550

SHOP NOW

Métier

Perriand Mini

Métier, $2,150

SHOP NOW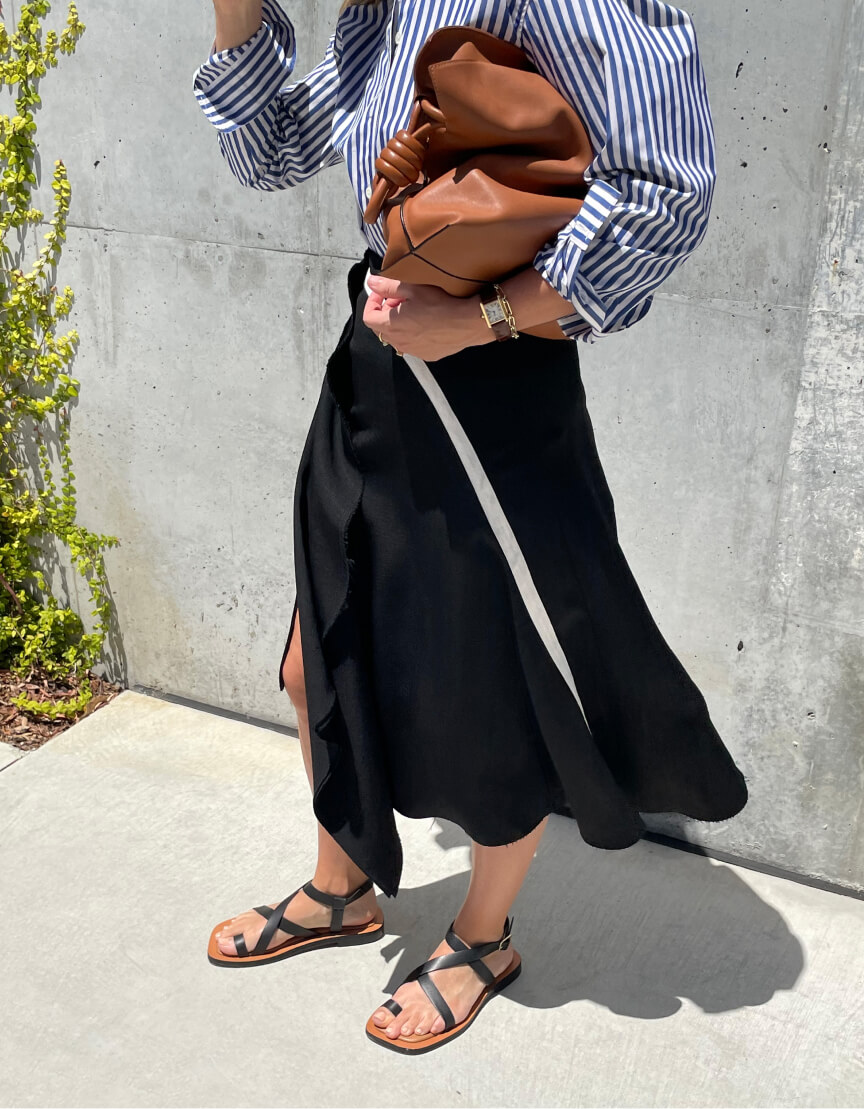 FINE LINES
If, like me, you tend to gravitate toward monochrome, may I suggest mixing things up with blue-and-white banker stripes? This ruffle-neck blouse is the right amount of feminine and looks great with anything high-waisted. I wore it with this cotton-gabardine skirt from Jil Sander (its clean lines make a nice complement) and warmed it all up with gold jewelry and a buttery leather clutch.
G. Label

brigette buckle ring

goop, $1,990

SHOP NOW

G. Label

JJ Ruffle-Trim Blouse

goop, $375

SHOP NOW

Jil Sander

skirt

Matchesfashion, $795

SHOP NOW

G. Label

elliott assorted-link bracelet

goop, $1,500

SHOP NOW

Loewe

clutch

Net-a-Porter, $2,450

SHOP NOW
Related Reading
The 2022 Summer Shopping List
You Asked, Ali Answered: Easy Summer Skirt That Goes Everywhere?
6 Prestyled Seasonal Looks